Post by Ptichka on Mar 26, 2016 21:08:24 GMT
Never been one for posting much on forums, so here goes.
Started out trying to persuade my Dad to go halves on a mk1 with me, however after poking around and driving a few, he decided to buy a Z3 instead...
Later that year, I found out I'd got an industrial placement for the next year at Uni, so would need a car. Parents offered me the old 1.8 Focus I'd learnt to drive in, and had been using since I was 17, I decided I wanted something a bit more interesting. Only criteria was something fairly cheap, easy to work on and most importantly fun to drive, so back to looking at mk1's we went.
In June 2014 I bought this car, its a black 1996 1.8 UK model. (Aforementioned Z3 sneaking in the picture)
Manual windows, no power steering, Watanabe F8Fs, Nardi steering wheel, mohair + glass roof, ~80k miles. Perfect.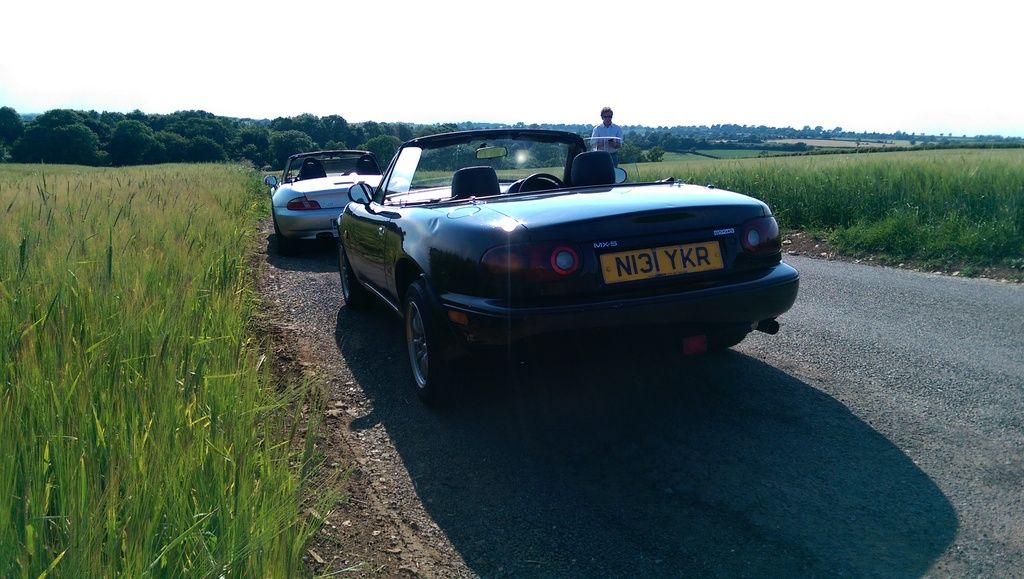 First things first, a good clean and an oil change, noticed the top rad hose was weeping as well, so that got replaced along with a full coolant flush. Detangoed the side lights, fitted some red rear reflectors and replaced (what was left of) the gear shift boot.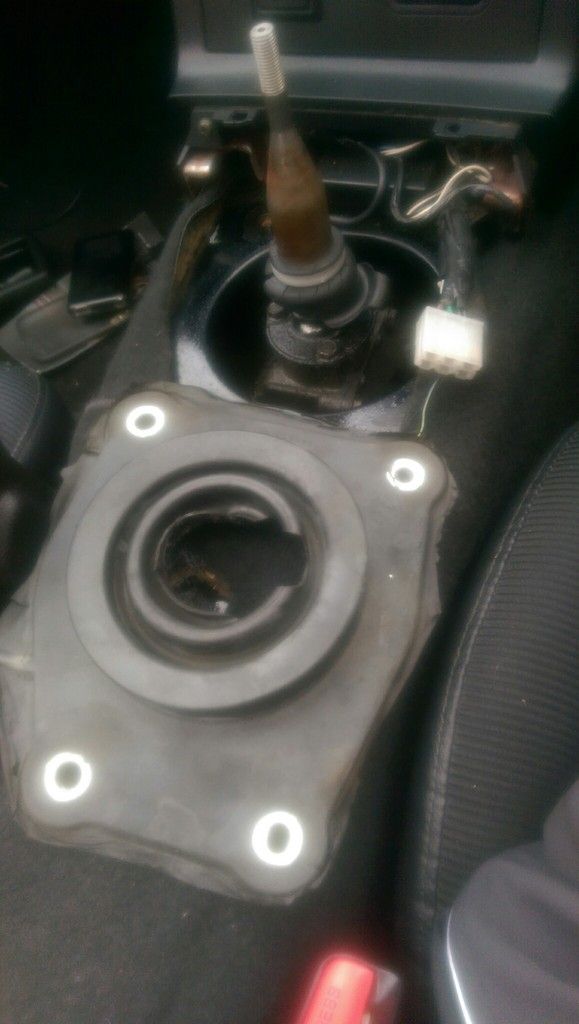 Noticed a slight misfire, check the plug leads and was presented by this, needless to say a brand new set of NGK leads went on, along with a new set of plugs.
Around Christmas 2014 this happened, so a new set of wheels was needed. Tailgate McNoIndicate BBS 14s from an E30 someone was breaking nearby, needed a refurb, so gave me something to do over Christmas.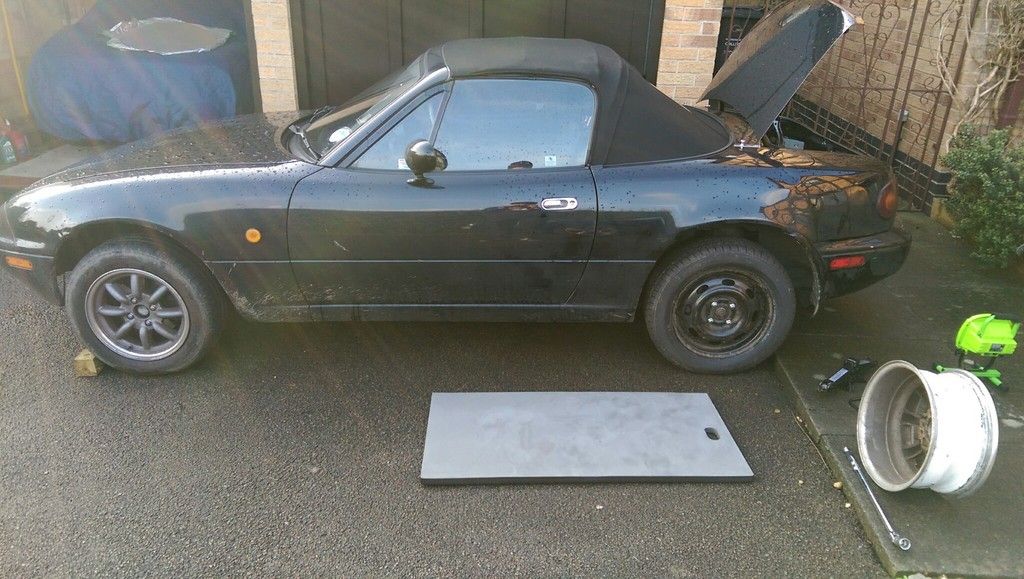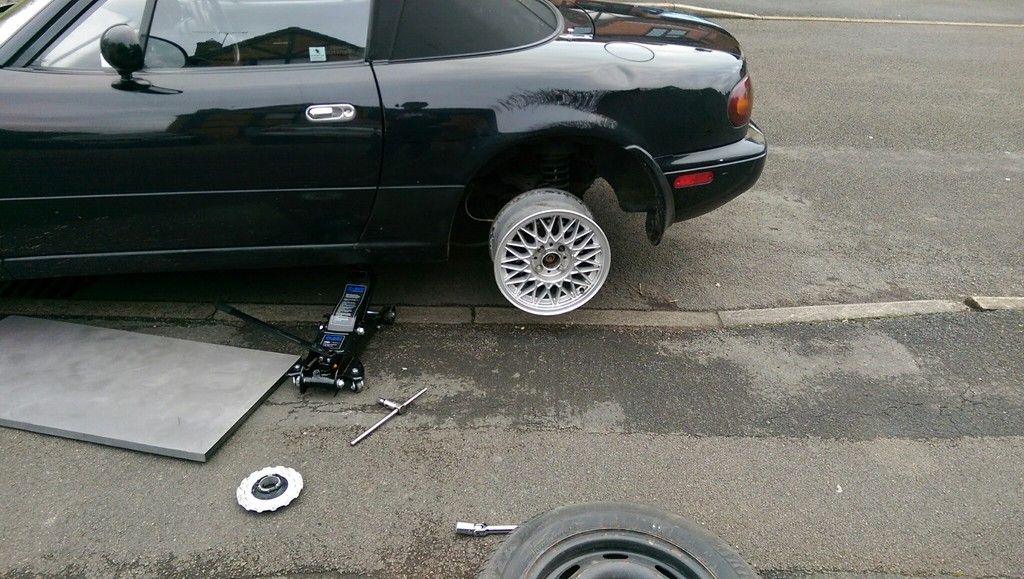 Around the same time the seats were replaced with tombstones, as the original drivers seat was in a pretty bad state.
As you can see, it was very much still a 4x4, and the money I'd started saving for MeisterR's had been spent on new wheels/tyres, so as compensation I got a second hand set of lowering springs, with the intention to get the MeisterR's at a later date.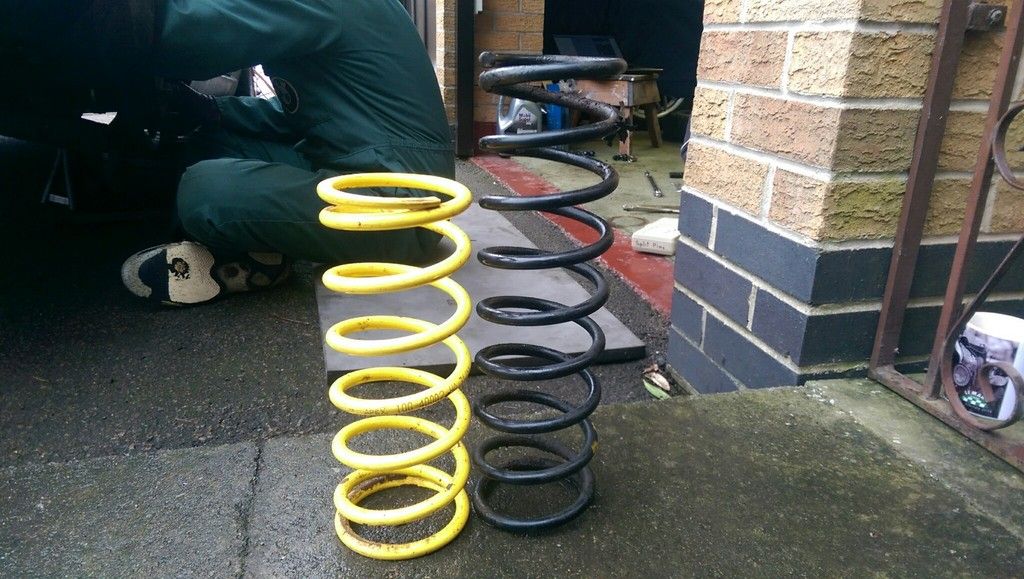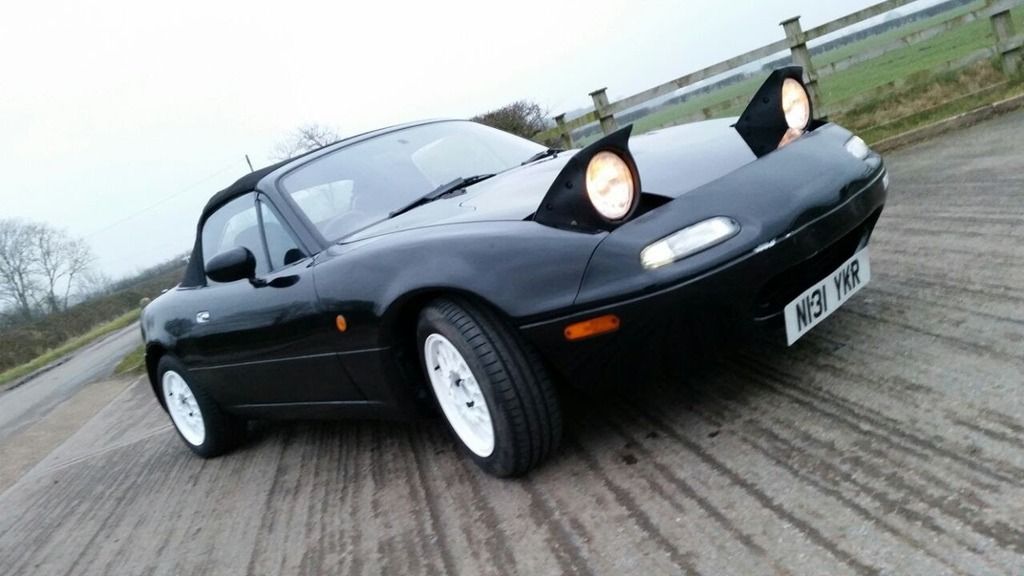 It was looking and driving better, but the shorter/stiffer springs were interesting on some of Sheffield's more potholed roads, especially as the rear dampers were on their way out.
Next up came the mx5 parts cat back single exit and a r package front splitter. Collecting the exhaust from the depot was an interesting experience, especially as I'd collected an obnoxious sub for a friend of mine.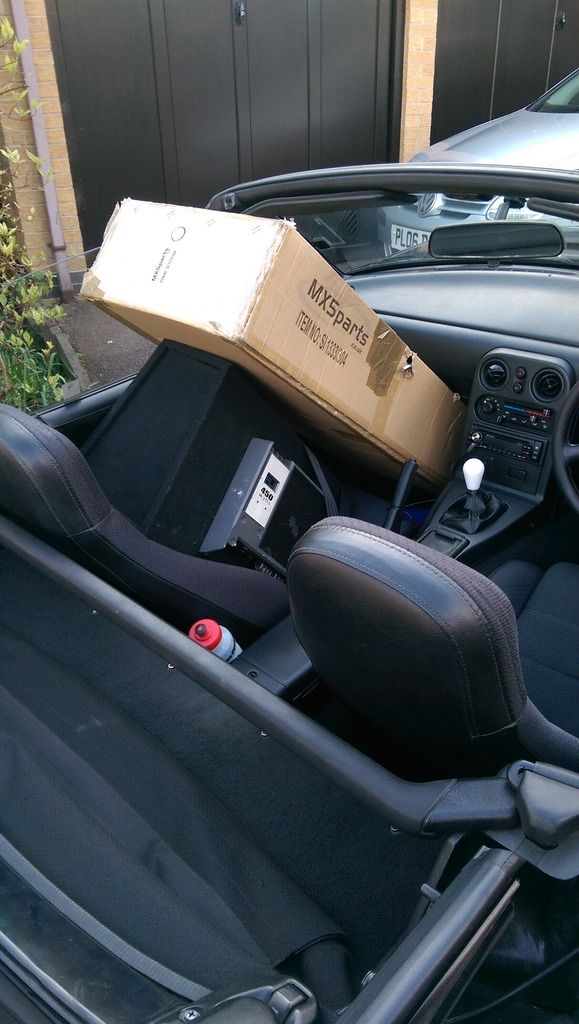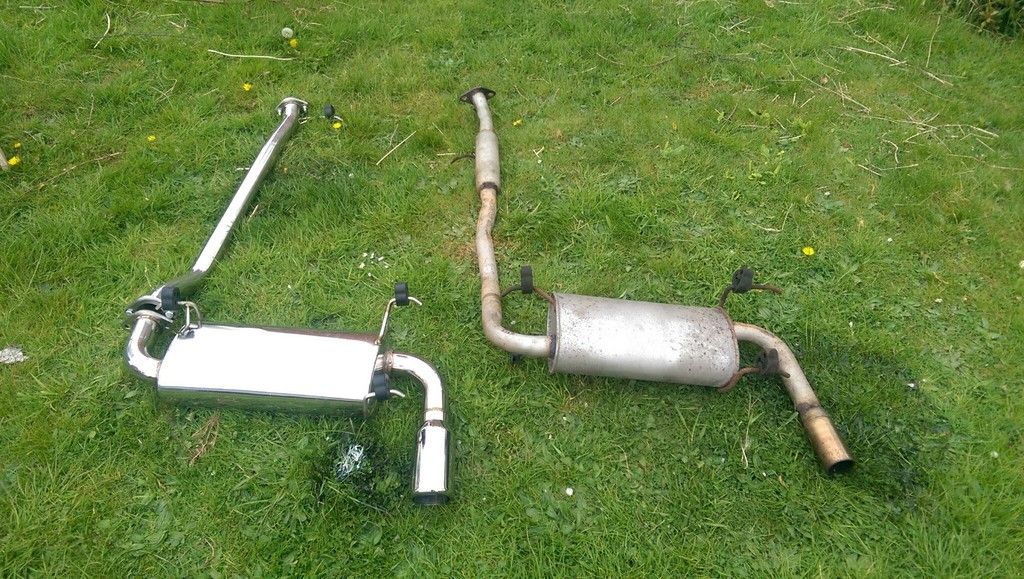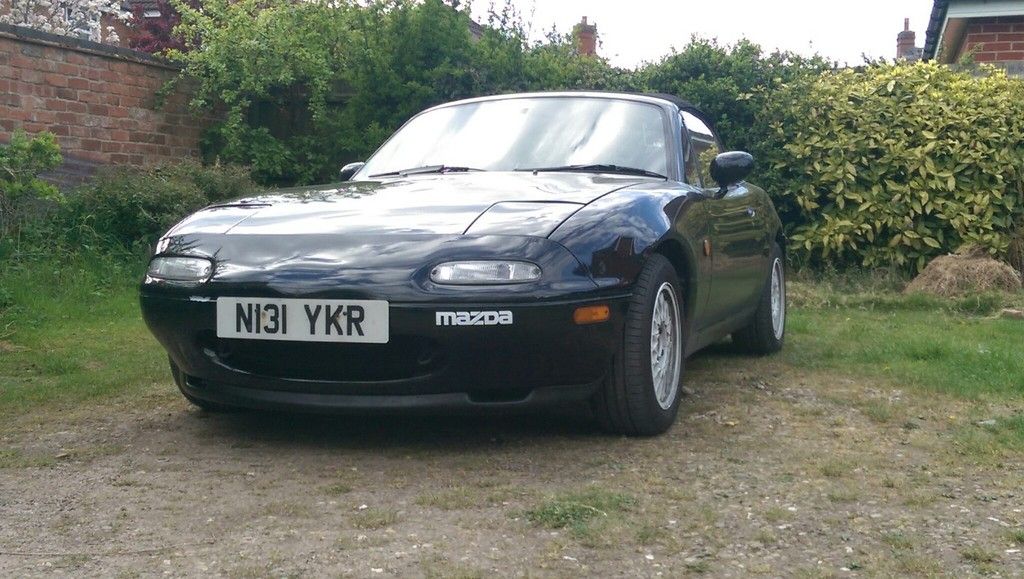 Now sounded a lot better, however where the sills had been repaired the paint was starting to come off, so sanded it back, rust proofed the metal and repainted both sides.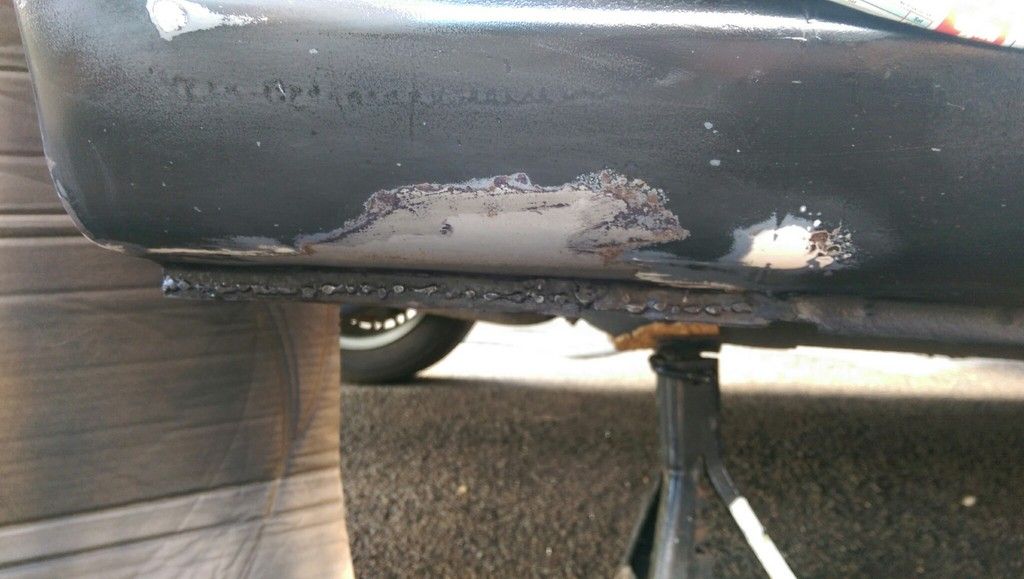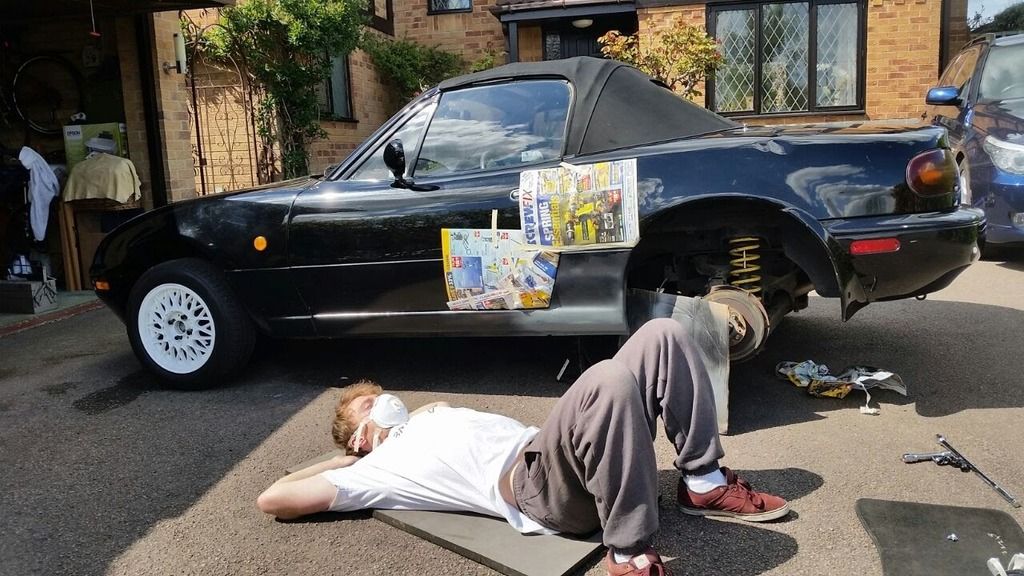 At this point the MeisterR's had been ordered, and was planning to get them fitted the next weekend, however driving back to Sheffield from my parents house that Sunday night, the car felt like it was losing power, no problem, knew there was a lay-by up ahead, as I pulled in the engine died. Snapped cambelt at 90k, even though it wasn't due till 120k, spent a fun 2 hours sat on the side of the A617 at 1 in the morning...
Head gasket and rocket gasket had both been weeping, so bit the bullet and told them to fix everything. Cue two weeks of driving a VW Up!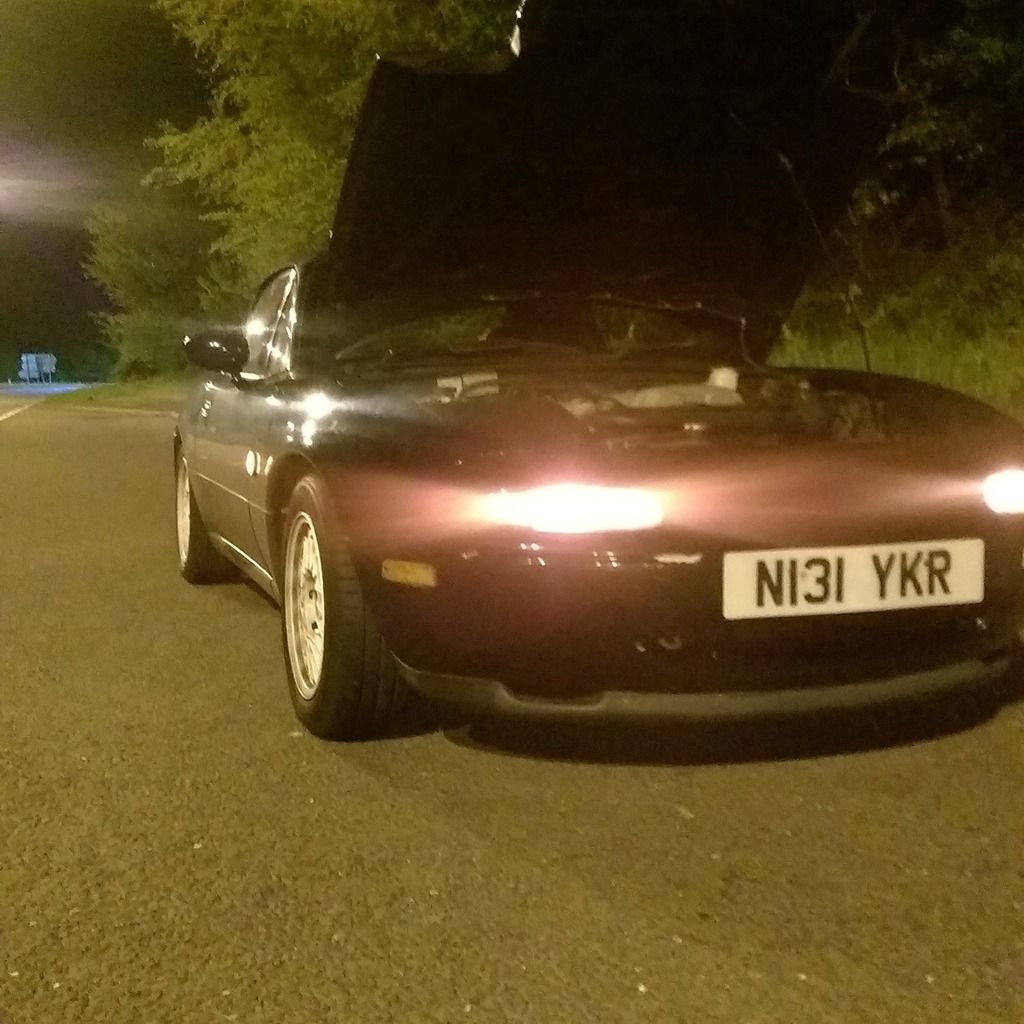 Fortunately this coincided with going to Spa for the classic race, so got to drive to Belgium and back in the Z3, no mx5, but a damn site better than the Up.
Came home to the car being fixed, but minus a wing mirror, usual bolt rusted through job.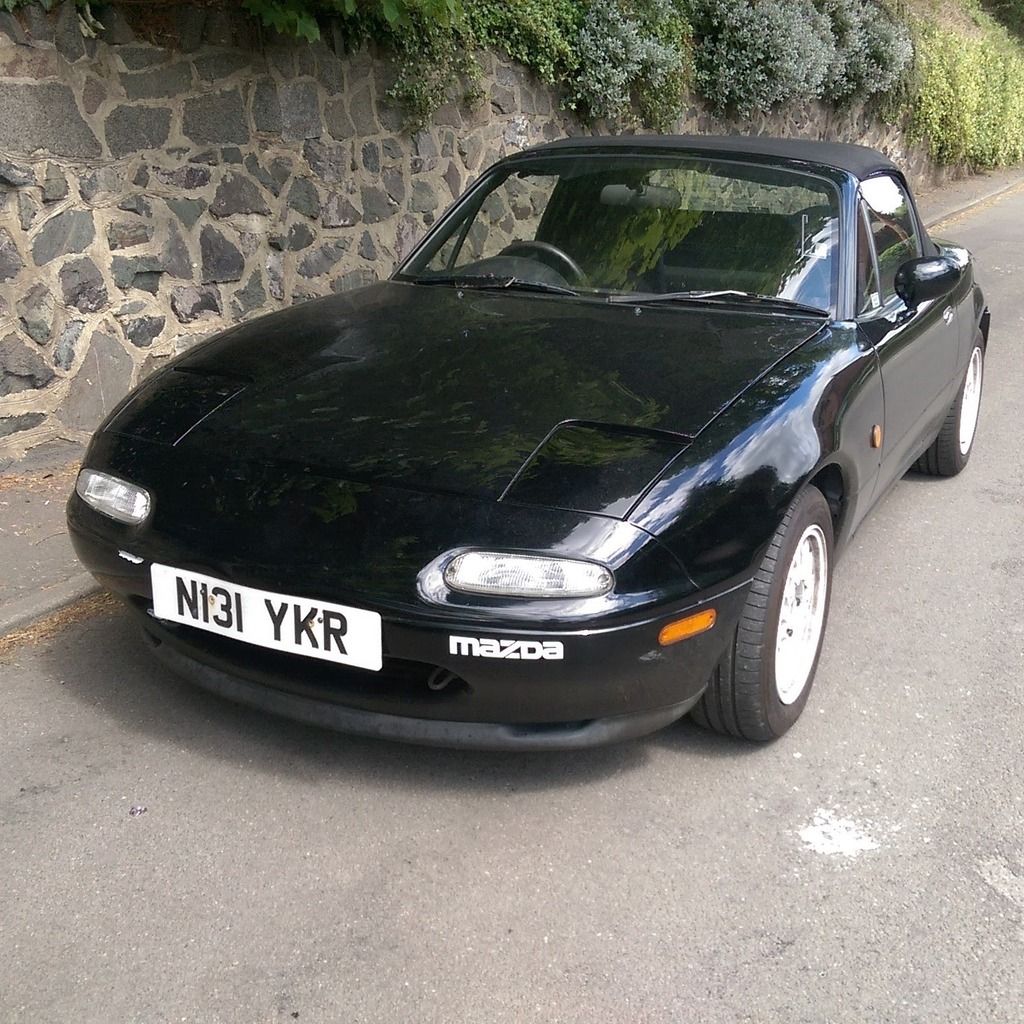 With the car finally back, the now very knackered suspension could be removed and the shiny new MeisterR's put in. New drop links and anti roll bar bushes went in as well, along with an E36 clock/cubby hole.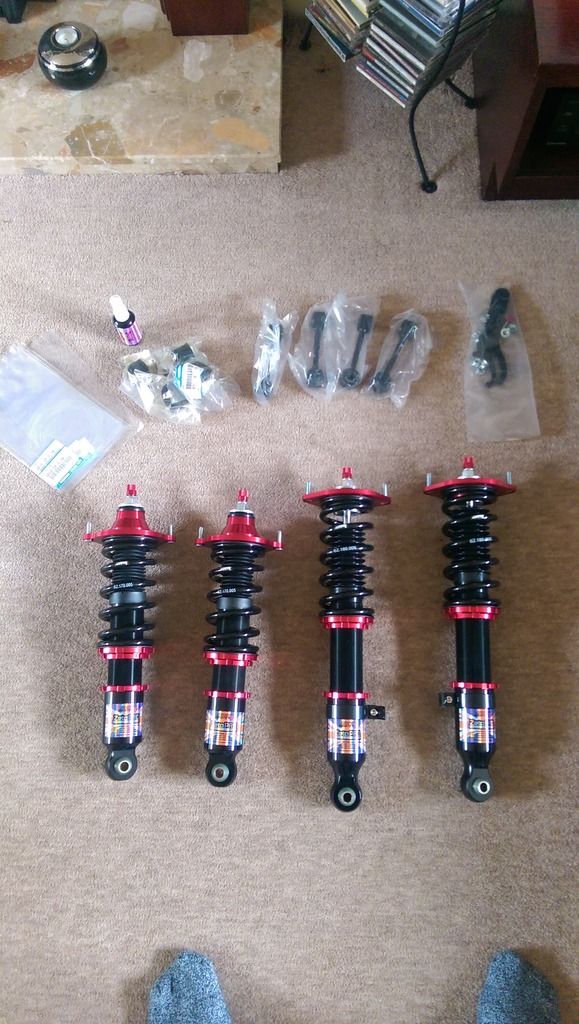 Not only did the car ride miles better due to functioning rear dampers (both had partially collapsed), but looked a lot better as well.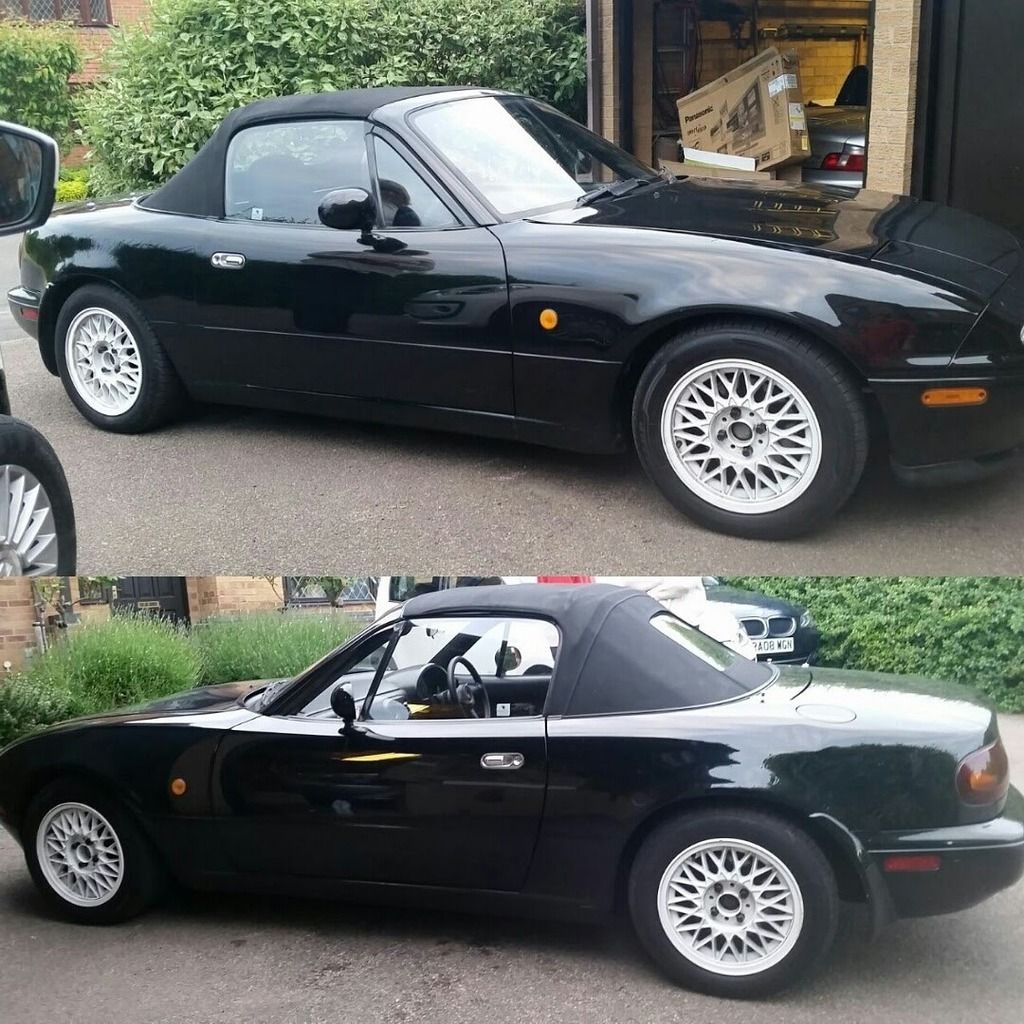 Next list of things done included a new Nardi wheel to replace the tatty one that came with the car, ARC chamber, new door bushes, chopped and painted rocker cover and couple of other minor bits.
In my two weeks off before I went back to University I'd intended to fit the Racing Beat manifold I'd ordered, however due to manufacturing/postage times it didn't arrive until I was back in Leeds, so all it got was a good clean including the soft-top getting treated. So the car remained like this till Christmas 2015.
Came home to a pile of parts, spent my Christmas fibreglassing/filling/sanding/painting the rear bumper to relocate the fog light to the drivers side tail lamp. Finally had a change to fit the manifold, vented headlight cover, Revlimiter gauges and Mazdaspeed strut brace.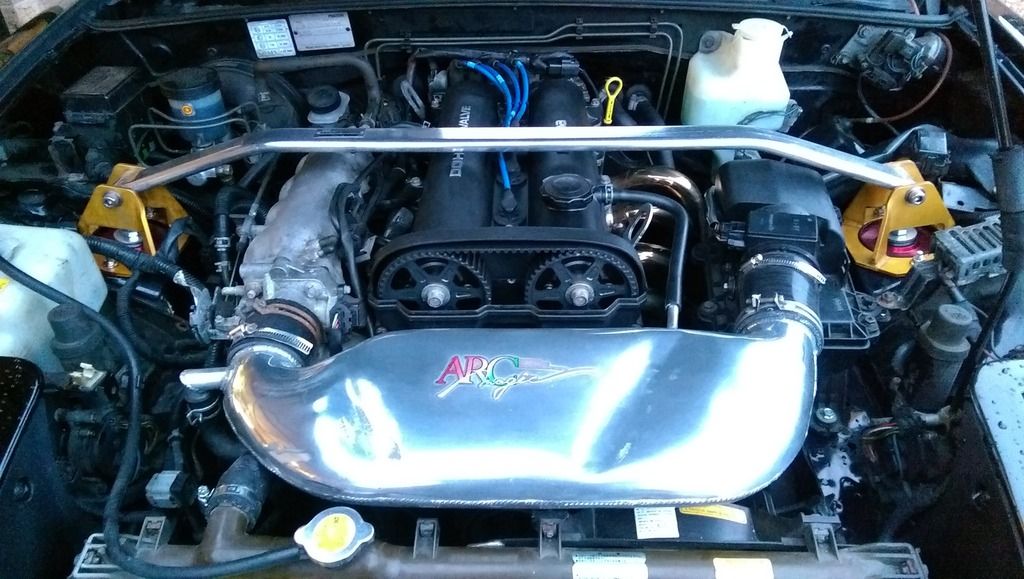 That pretty much brings it up to date, a couple of little other jobs have been done recently, a set of reconditioned callipers was put on the front, and I finally got round to fitting the centre caps.
Moving forwards the only impending jobs are to retrim the door cards, however I'd like to eventually get some new wheels, brake pads (almost worn down), potentially turbo/SC (though still unsure on what), all the wishbone bushes could do with replacing and it could do with underseal redoing.
That was an enormous first post, so here is the short version:
Basically this is my mx5, I'm somewhere between Loughborough/Leeds, suggestions and input into what to do are welcome, if you see me wave and hopefully I'll be able to get to some shows/meets this year and meet some of you lot!
Instagram, if anyone is interested is:
www.instagram.com/james_warren98/
Cheers,
James